PSARA LICENSE (Private Security Agencies Regulation Act)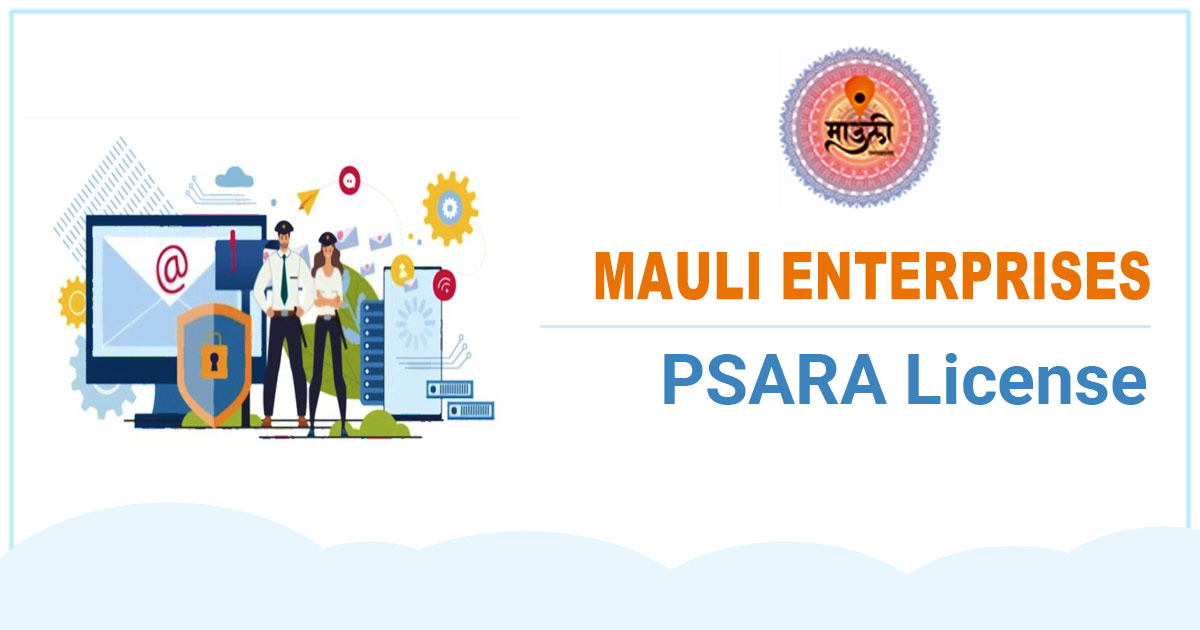 Wanting to open a private security firm but unaware of where to start? Let Mauli Enterprises guide you in collecting the building blocks for setting up your business. For setting up any private security firm in India, one needs to acquire a PSARA license. PSARA is a duly registered license that enables any individual to set up their own private security firm under the Private Security Agencies Security Act 2005.
But how can one get this license and what documents do they require? There are so many technicalities and chances of being overwhelmed in the process. But you don't need to worry about all these details and can just consult out experts at Mauli Enterprises who will guide you through this entire process and help you get your PSARA license. Our experts have been guiding individuals obtain a PSARA license. Be it assembling the require documents, filing an affirmative proposal, or following up on your application status up until the process is completed, Mauli Enterprises is your one-stop, hassle-free destination who can help you get your PSARA license.
Once your PSARA license is processed, we help contractors in filing for guard board exemption which can help your companies streamline certain aspects of your jobs.
Since 2009, Mauli Enterprises has helped acquire over 550 PSARA licenses, out of which, about 200 of them were obtained during the tough pandemic period when the licensing process turned online.
Police Verification (PCC)
Police Verification is a very basic need in all walks of life. When one needs to judge the credibility of an individual, police verification is a safety measure adopted for most of these procedures. We, here at Mauli Enterprises, help you get your Police Verification for guard applications done with ease. We guide you to keep the necessary documents ready and schedule your appointments so that you can get the process completed with ease.
PF, ESIC, GST, PT, MLWF and Monthly Compliance
Any company or business with more than 20 employees knows the importance of managing taxes and compliances for the company as well as their employees. Managing these on a monthly basis need not be a burden on the company if there is absence of financially technical knowledge. Mauli Enterprises has experts who can handle your company's needs when it comes to managing Provident Funds (PF), Employees' State Insurance Scheme (ESIC), Goods and Service Tax (GST), Professional Tax (PT), or Maharashtra Labour Welfare Fund (MLWF). We provide expert consultation so that your monthly taxes and funds are sorted effortlessly.
Labour License
Under the Contract Labour Regulation and Abolition Act, 1970, any contractor wanting to hire more than 50 labourers need to get themselves a Labour License which is valid for 30 days. Mauli Enterprises has experts who you can consult with and get all your necessary paperwork sorted so that these licenses are approved within the appropriate time frame to avoid any delays in your work planning.
Shop Act License and MSME
Want to set up a new shop? Are you aware of the legalities and paperwork involved in this process? If not, there is no need to worry about it as well. All you need is to consult our team here at Mauli Enterprises which shall help you organize all your relevant documents as per the Maharashtra Shop and Establishment Registration requirements under the Shop Act. This Shop Act license is necessary to legally operate a shop in Maharashtra. Another necessary certification that we give expert consultation for ease of taxation is the Micro, Small and Medium Enterprise (MSME) Certification which helps small businesses carry out their business stress-free.
Training Certification and MOU
Any and every security training under the Private Security Agency Regulations Act (PSARA) needs to be justified with a training certificate. These certificates prove the authenticity of the personnel's training so that they can be hired at reputed firms. All major private security firms/agencies need to be affiliated with recognized training institutes. This helps in easy recruitment for the companies and easy employment for the candidates. To bridge this exchange with ease, credible training certificates and Memorandum of Understandings are issued as proofs. Mauli Enterprises through their experts and contacts with these agencies can help you get the right fit and certification to launch your career in this field.
We ensure the training facilities that issue these certificates have correct tools to train an individual in subjects such as:
• Physical Fitness Training
• Conduct in Public and Appropriate uniform etiquettes
• Knowledge of physical assets, property, household or personnel security
• Fire Safety Training
• Crowd Control
• Correct way to examine various documents before permitting entry within premises.
• Workable knowledge to perform important checks such as identifying arms licenses, travel documents or security inspections in English.
• IED Identification
• First Aid Training
• Disaster Management and Crises Response.
• We ensure that the training institutes you decide to enrol in is apt in these areas so that your training certification holds value for ease of employment.